Tenerife Bus Service TITSA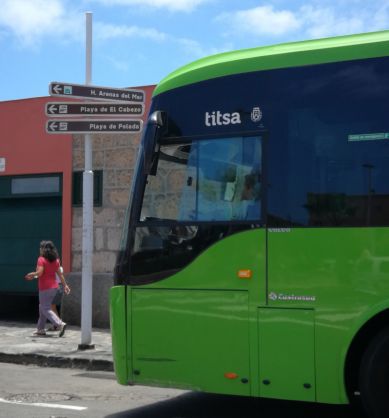 Overall, the TITSA Tenerife bus service is pretty good. It offers a cheap and cheerful way to get round the island, especially for those tourists who want to see the 'real Tenerife' as opposed to 'tour bus Tenerife'.
The buses are (usually) clean and in good condition and you'll see far less of the local colour than I used to see in my native Glasgow on a Saturday night ( that is a good thing).
Getting from A to B can require a bit of planning and Sundays and holidays reduce services considerably but the nifty TITSA app can tell you in plenty of time when a bus is due so you can always nip to a cafe near the parada for a cold drink while you wait.
Questions about the Tenerife Bus Service
Are buses in Tenerife accessible?
In general, yes. There are buses that lower themselves, buses with electric ramps and buses with hydraulic lifts as you see in the video below. All have some designated area for seating for those with restricted mobility. Some have bays in which a wheelchair can be positioned securely. All sightseeing buses in Santa Cruz are accessible and the Tranvia tram in the capital – run by a different company – was the first Spanish public transport system to be certified for universal accessibility in all its services, passengers' transport, information and sale of tickets.
The reason for saying 'in general' is simply because there are buses of all ages on the roads. The intention is certainly for there to be full accessibility on public transport but I would perhaps check with the TITSA company itself if this is the case on more rural routes before setting off on an adventure.
 How do we get from XXX to XXX
That is a question that is often sent into eTenerife but we can't really answer it. TITSA updates their services from time to time, adding a route here or lopping off a few stops there. The best thing to do prior to a journey is to check with the TITSA website where you will find a couple of tools to help you plan your route.
You'll see the Plan a Journey box (pictured on the right) on the TITSA homepage. If you know the local council (ayuntamiento) of the place you want to go you are off and running.
Fill in the fields and you'll be taken to a Google map showing your route and bus times.
As a happy little bonus, this search will also show you the bus line number you will be waiting for and the approximate time to destination.
One thing it doesn't tell you though is the number of the bus stop. This is a good thing to know because if you know the number of the parada you can judge how much time you have to get to the stop before the next bus by using the Proxima Guagua link or app on your mobile.
How Do I Know the Bus Stop Number?
If you know the bus stop number of where you are plus where you need to go you can find out when your next bus is due, estimated time to destination and what line you need to be on.
Each bus stop has a green stand which shows the parada number, as well as the bus lines that stop there and the bus stops along the route.
The parada stand in the image is the El Medano terminus. It's number is 7272 and the smaller numbers underneath are the bus lines that serve this location.
Tenerife Bus Fares

 Line 
 To <> From
 Fare 
Discount
 111
 Costa Adeje <> Santa Cruz
 €9.45
 €6.25
 482
 Vilaflor <> Los Cristianos
 €3.05
 €2.10
 477
 Los Cristianos <> Los Gigantes
 €4.65
 €3.05
Discounted Travel with Tenmas Card on TITSA Buses
TITSA offers a confusing array of discount options including University tickets, family tickets and monthly tickets. The good old Bono Bus ticket which saw considerable savings loaded on to a paper ticket has been replaced by a credit card size rechargeable card that can be topped up online or at many places around Tenerife.
The Ten+ Travel Card can be used on all bus routes except Teide and Teno. The plastic card itself can be purchased online or at various outlets around the island for €2 plus a €5 minimum credit amount.
How to Use Tenmas card
As you enter the bus or tram, touch the card to the validating box until you see a green light. On buses you must remember to do the same on the way off the bus or your card will be debited for the cost of the entire route and not for the number of stops you have travelled. As you connect the card on the way off the bus, you can also see how much credit is left on the card.
Different Kinds of Tenmas Cards
Basic Tenmas Card – purchased for €2 and chargeable in increments of €5 up to €100 or for a monthly €50 ticket. This card also covers multi-person use and university discounted tickets.
Personalised Tenmas Card – purchased for €5 and used for the following:
Monthly Youth Discount 35€
Elderly and Disabled Council 12€
Elderly and Disabled Santa Cruz 7€
Monthly Discount Metropolitan Area 45€
Weekly Youth DIscount Metropolitan Area 12€
This card is personalised with your photo and is only available through commercial offices of TITSA and Tranvia
TITSA Interchanges and Bus Stops
There are several interchanges where many routes come together allowing for ongoing and extended journeys. Whether you are a tourist or Tenerife resident, making use of the TITSA Intercambios will open up the island to you. These are also the laces to find TITA information centres and but BONO cards.
Santa Cruz  Interchange(Main Hall and Upper Floor)
La Laguna Interchange
Puerto de la Cruz Main Stop
Los Cristianos Main Stop
Costa Adeje Station
La Orotave Station
Icod Station
Bus Hopping from A to B
The Tenerife bus service, much as we all love to moan about it, is actually very good in that there are very few corners of the island that it will not get you to.
For tourists, hopping on a guagua to get you from Adeje to Buenavista is a lot more interesting than hailing a hermetically sealed taxi. Granted, you may get the occasional amusingly-bonkers-but-friendly taxi-driver but people watching on the bus is a lot more fun.
Should I buy a BONO card?
No. BONO has been phased out and replaced by the Tenmas card. See above.